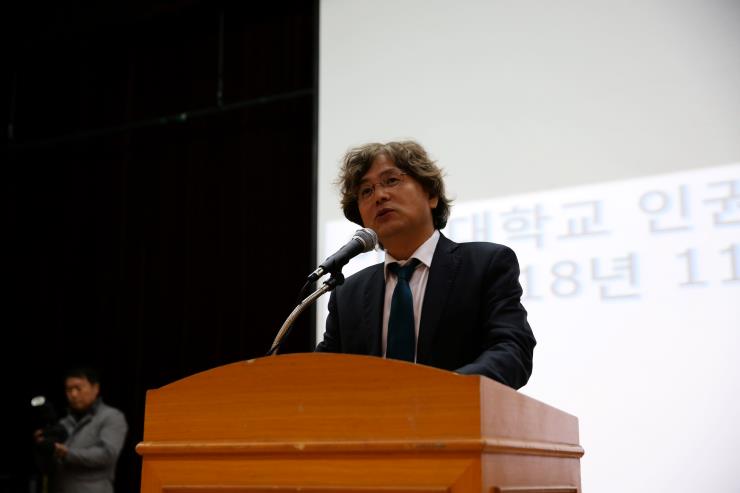 Ajou University launched its Human Rights Center, which integrates human rights counseling functions in order to further strengthen the respectful culture among Ajou people.
The opening ceremony for the Center was held in the auditorium of Seongho Hall on November 30th with Ajou University President Hyung Ju Park and faculty and staff members in attendance.
It began with the introduction of the Center by Director and Professor Jin Kuk Lee (Law School), followed by a welcome speech by President Park and a congratulatory message by Lawyer Seong Geun Jang (former President of Gyeonggi Central Bar Association).
President Park said, "Thanks to the efforts and dedication of Director Lee and other professors and staff members, the Human Rights Center is being launched today," adding, "I would like to thank the counselors and researchers of the Center who are providing such important services to Ajou people."
Lawyer Jang said, "The role of the Center is increasingly important because the approach to human rights has changed to now include related policy-making beyond just supporting those whose human rights have been infringed upon as in the past," adding, "I congratulate Ajou on the opening of the Center that will mediate diverse points of view on campus."
President of the Korean Institute of Criminology In Sup Han, who lead the Human Rights Center and currently serves as a professor at Seoul National University, then gave a special lecture under the title "The Role of Human Rights Centers at Universities." After the opening ceremony, a signboard hanging event for the Center was held on the fourth floor of the Student Building.
Reporting directly to the University President, the Human Rights Center is responsible for counseling, education, research, and other matters relating to the protection and promotion of human rights, gender equality, and support for disabled students.
* Contact information of the Human Rights Counseling Office: Phone 031-219-1733 / e-mail: humanrights@ajou.ac.kr / Room 417, Student Building